Murders most foul
Corporate True-Crime Experiences.
The Only Interactive Walking Tour of Sydney's Most Horrifying Murders Designed for Team Building and Client Entertainment.
Give your team a unique true-crime experience
Put your team into the shoes of a 19th-century detective and discover the crime scenes of eight violent murders which took place in Sydney's Surry Hills.
Everyone will receive copies of actual police evidence, crime scene photography and witness reports from the investigations so they can compare the past with the present. They might even solve a cold-case murder mystery.
The tour starts at Central Station for your team's convenience and ends at the Royal Albert Hotel Surry Hills. Voted #1 Craft Beer Hotel in Australia.
Create a custom true crime package for your company. Options to include post-tour food, drinks, themed entertainment (trivia and games), a co-branded hard copy of casefiles book and an MC to coordinate the function.
The Eight Forgotten Murders of Surry Hills
Did you know Surry Hills was once considered Australia's murder capital? So notorious it was said to rival New York's Hells Kitchen and London's White Chapel in its depravity.
Eight Surry Hills murders will be revealed to your team, each shocked the nation.
These include…
The Surry Hills silk stocking strangler,
The Case of the Woolloomooloo Rose,
Mary O'Hara and the Crown Street horror.
Just a few of the horrors that were hidden from the public, until now.
Casefiles eBook
Each member of your team will receive a complimentary copy of the Murders Most Foul: The Surry Hills Case Files ebook. The book contains the actual police evidence, crime scene photography, witness reports, newspaper articles and coroner's reports for each case. As well as bonus information about the victims and perpetrators.
They will use the old photographs and maps to piece together clues to determine the exact spot where the crime was committed and, or, to reconstruct the events and potentially solve a cold-case mystery.
The book sells on Amazon for $19.99. Free with your ticket.
Royal Albert Hotel
The tour ends at the Royal Albert Hotel (winner of Beer & Brewer's Best Beer Venue 2021) on the corner of Reservoir Street and Commonwealth Street. A nice table is reserved for the Murders Most Foul tour gang. However, you may choose to book a private room.
The Royal Albert Hotel, built-in 1927 was an old watering hole for local coppers from Surry Hills, Darlinghurst and Kings Cross. Notorious patrons included Roger "The Dodger" Rogerson and Frank "Bumper" Farrell.
Please note that tours will end here, however, if you desire your guide will walk you back to Central Station to make sure you get back nice and safe.
Booking Your Tour Package
Operating days
Wednesday – Friday at 3 pm – 5 pm
(Or tailor date and time that suits your team)
Where to meet
Central Railway Station
Price Packages
Starting at $40 per person and includes a copy of
the Murders Most Foul Casefile ebook.
Custom packages can be designed with options to
include a physical copy of the casefile book
with your company logo, dinner packages, drinks
packages,
themed entertainment (trivia, games, etc) and MC.
Duration
Approximately 2.5 hours
Distance
4 km (approx 5,500 steps) with some small hills.
End Point
Royal Albert Hotel on Reservoir Street.
However, for night sessions the guide will walk
participants back to Central Station.
Make an inquiry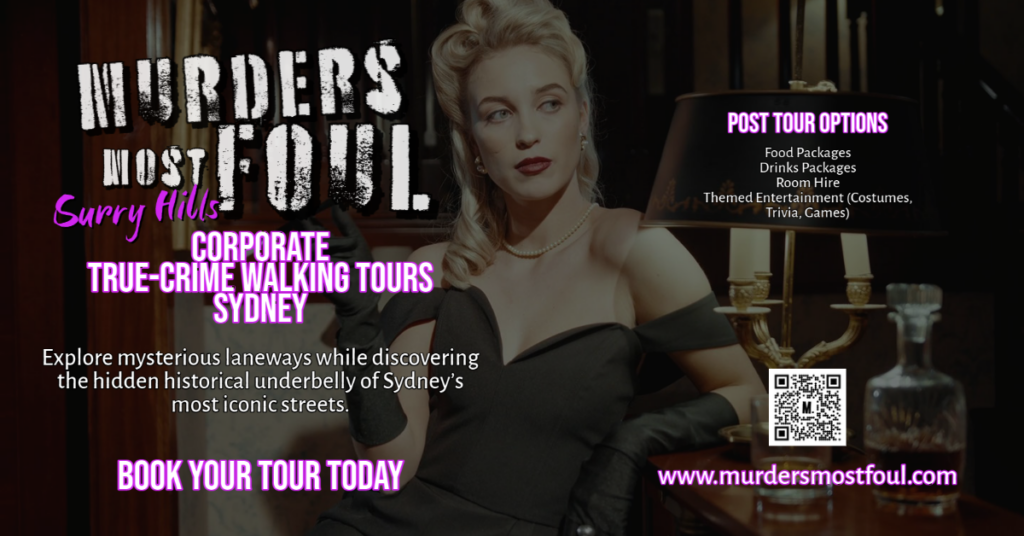 Sydney True Crime Monthly
Subscribe
Use the form below to subscribe to our monthly tabloid
Recieve historical cases, murder mysteries, court proceedings, newspaper articles, and vintage detective pulp fiction.