BOOK A TOUR FOR YOUR OFFICE XMAS PARTY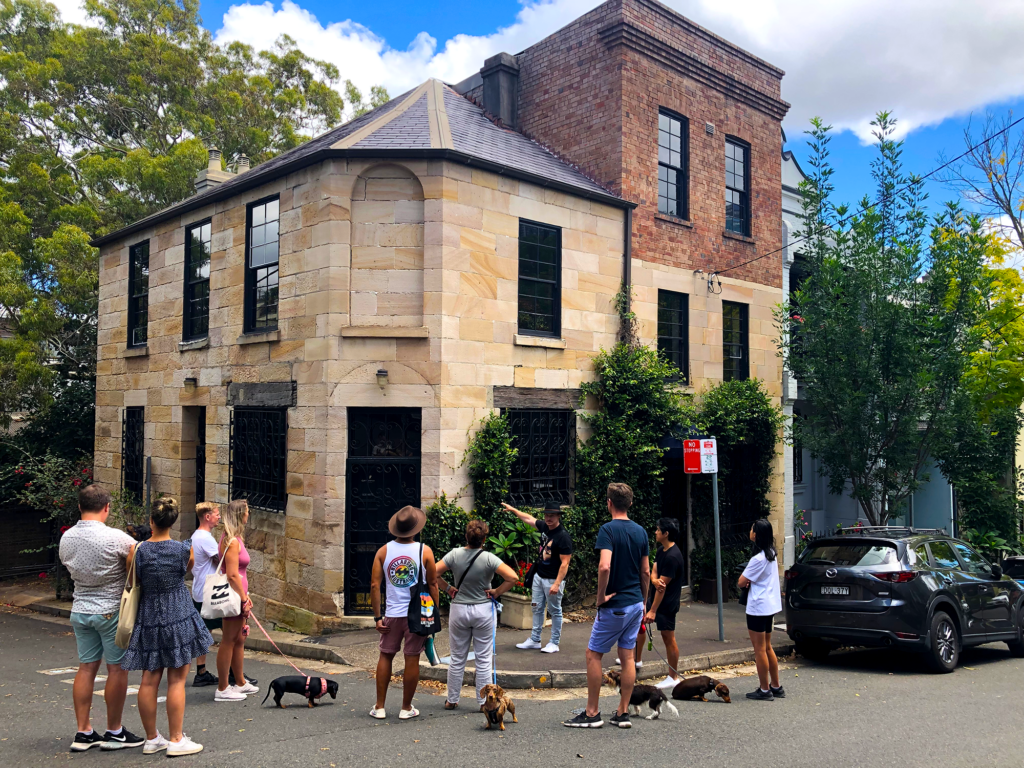 Our premium walking adventure is everything the 2-hour tour offers plus more crime scenes, more history, and more laneways like the charming cat alley. The final stop is an old detective's pub frequented by the infamous Roger Rogerson. Click here to find out more.
Investigate the dark past of Sydney's iconic Surry Hills. This gentle walk explores old lanes and alleys to discover a series of forgotten murders and crime scenes from 1820 to 1960. Experience old-fashioned storytelling with a twist. Click here to find out more.
Explore murder, myth and mystery in Sydney's most eerie and sinful historical neighbourhood. You will track the steps of disturbed serial killers; lurk through old ganglands; uncover a 19th-century same-sex scandal that ends in murder and discover the forgotten prostitute lanes, beats and brothels. *Not Suitable for children under 15.* Click here to find out more.
I highly recommend this walking tour. Elliot's vast historical knowledge and entertaining narration really helps you imagine the lifestyle of characters from the past in the streets and hidden laneways across Surry Hills. He was easily able to answer questions from the group on the go. A most entertaining day!
Elisabetta De Simone
2022-06-26
Elliot went far and beyond with this tour. I went to the 3-hours walking tour and It definitely exceeded my expectations.
Louise Weihart
2022-06-26
Awesome tour covering history, architecture and true crime - and a good outdoor walk (very gentle) too. Elliot is also a master storyteller and for the total duration of the tour I literally felt I was in another universe. I was so engrossed I forgot to take photos hence the limited offering! Can't wait for the next tour - with lots of photo-taking 🙂
Catherine Ryan
2022-06-25
Highly recommend this 2hr sojourn of Surry Hills precinct for tourists and locals! Learnt so much of Sydney's dark history from Elliot, as he weaved fact and drama into every event. Never reading from a script, Elliot has such a breadth of knowledge on the inner workings of the Surry Hills of old!
Fabulous tour with Elliot today. He was very knowledgeable about the Surry Hills area and the stories that he recounted. I love history and I learnt a lot about this area of Sydney. He very kindly took us a little off the tour route to show us a place of interest that we had mentioned during the tour. We would highly recommend doing this tour. Great value! Thank you Elliot 🙂
Matthew Prestipino
2022-06-19
Thoroughly enjoyed the tour. Elliot was very knowledgeable and clearly passionate about the history and crime of Surry Hills, and that energy kept me engaged the whole way through. Would definitely recommend to others.
A fun and informative tour, our guide Elliot was very knowledgeable and passionate, and everyone had a great time. Thanks Elliot
Had a great tour with Elliot yesterday. He knows his stuff! Really interesting period of Sydney's history that I had no idea about. A lovely way to spend a Sunday!
What a wonderful day. Elliott has certainly done his research well. He led us on an interesting and informative walk through Surrey Hills. We would recommend this tour most highly. David & Cherie Livotto
The best historic walking tour I have been on, and I have been on many. Elliot very personable, knowledgeable, and interested in what he is talking about. Lots of variety in stories - social, economic and architectural history of area, as well as crime details - I never got bored
MURDERS AND SCANDALS IN YOUR SUBURB?
Sydney True Crime Monthly
Subscribe
Use the form below to subscribe to our monthly tabloid
Recieve historical cases, murder mysteries, court proceedings, newspaper articles and vintage detective pulp fiction.